Cloud computing has been around for years. The advantages of moving to the cloud infrastructure are well known and documented. See, for example, this list of 12 benefits of cloud computing detailed by Salesforce:
Cost savings
Security
Flexibility
Mobility
Insight
Increased collaboration
Quality control
Disaster recovery
Loss prevention
Automatic software updates
Competitive edge
Sustainability
However, the adoption of the cloud computing by the businesses remains low. According to McKinsey, enterprise cloud adoption is at around 20 percent.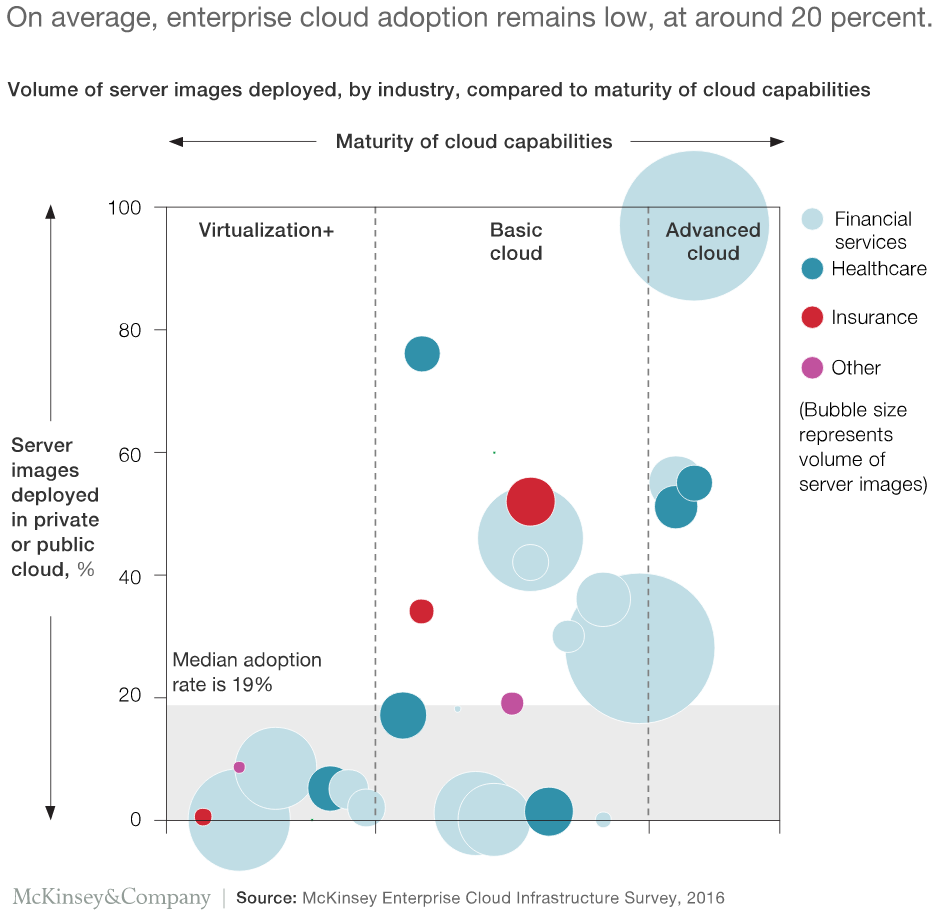 This is not surprising at all. The shift of the infrastructure to the cloud demands a significant investment of time, money, and human resources. It also requires new expertise, experience and knowledge.
That's where we come in. We have been building, growing, maintaining and supporting cloud infrastructures for years. We know how to design new setups and how to improve existing ones. We know how to migrate from on-premise data centers and assorted hosting companies to a centralized, reliable and scalable cloud infrastructure. We know how to train people, how to monitor the systems and services, and how to solve urgent or upcoming problems.
Hosting
If you are not ready to roll out your cloud infrastructure yet, we can host your resources on our own private cloud in Amazon AWS.
Audit
We can review your existing on-premise or cloud infrastructure, highlight the problematic areas, and suggest improvements.
Consulting
We are here to help you define your cloud migration strategy, phases and milestones.
Design and architecture
We can help you select the best resources and services for your cloud infrastructure, and ensure optimal performance, security and cost.
Cost optimization
We can assist you with cost optimization of your cloud infrastructure. We can ensure that you only pay for what you use and use only what you need.
Maintenance
We can help you monitor your infrastructure, roll out software and hardware updates, verify backup and recovery procedures, and more.
Support
We can provide you with multi-tiered support line for fast resolution of problems and questions.
---
Latest posts about Cloud Computing from our blog