The demand for application development has increased dramatically over the years as a result of the enormous benefits and profits it provides to businesses. This is because web and mobile applications have the ability to introduce the brand to a large number of users.
But have you ever wondered why, despite the fact that there are thousands of apps in the Play Store and App Store, only a few of them become profitable and successful? The reason is straightforward. The applications that are built on solid infrastructure and developed by a knowledgeable development team are the ones that achieve rapid success.
As a result, whether you are a start-up or a large enterprise, it is always recommended to partner with a service provider to handle your development needs. Below are seven reasons that your company should consider outsourcing part or all of your software development project.
What Makes an App Successful?
Here are some characteristics of successful and profitable applications that you should be aware of:
Excellent user experience.
Ease of use with a consistent interface
A stable app that does not crash
Ability to address user requests with fast updates
Adaptability to changing environments and user requirements
The user interface is intuitive and simple to use.
If you don't have the in-house expertise to create an app, it's ok.  This is where partnering with a custom software development company comes into play.  At AlleoTech, we have the experience, expertise, and knowledge required to create world-class applications for our clients.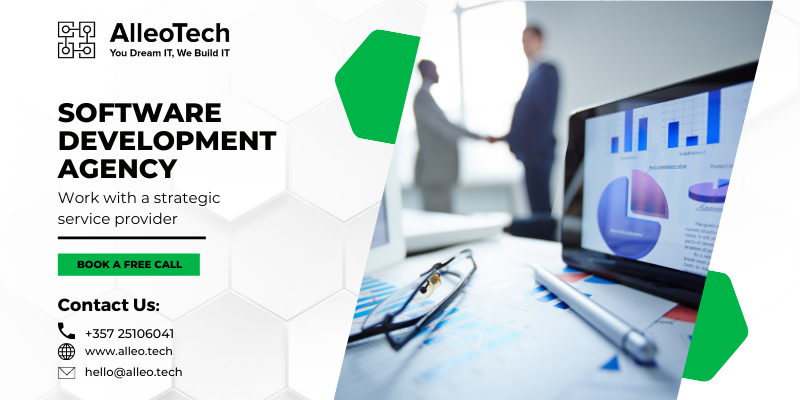 Top 7 Reasons to Outsource Software Development
Here are some of the reasons why outsourcing your software development project is the best way to create business applications:
1. Experience Goes a Long Way
Another significant advantage of working with a software development company is that the developers who work on your project are skilled in their technology stack. They have the necessary knowledge to deliver more precise results as well as the experience working on multiple projects over a long period of time. This increases their understanding of the complexities of development and allows them to apply better logic to solve various business challenges.
2. Flexible Working Hours
Flexibility is essential in the development of any application. The biggest benefit of flexible working is that you only pay developers for the hours they work on your project. This means that if there are any gaps between stages of your project development, you will not be charged for that time period. This is a huge advantage from trying to build an in-house team that are all on full time salaries.
3. Speed To Market
Hiring a software development company also provides the added benefit of a faster time to market for your project. Applications with similar project ideas are rapidly developing nowadays.
You don't want to hire a developer who takes forever to finish your project until the concept has become obsolete. As a result, choose a reputable app development company with a strong team of developers capable of completing projects on time.
4. Real-Time Project Feedback
If you think you'll hand over your project to a developer and then forget about it until it's finished, you're dead wrong. For accurate results, the process of your project, from ideation to completion, necessitates extensive research and consistent feedback.
To create the best version of the app, you must maintain constant contact with the software development company and hold regular meetings and communication. Working with developers from a reputable company allows you to track the project's progress and provide suggestions and feedback in real time, allowing you to improve your application.
5. There are fewer risks involved.
The development of a project is a large task, and the application development process can be risky. Sometimes programmers are stuck with a problem that they cannot solve.
If you hire a single freelancer, the likelihood of a problem arising that delays your project increases, adding costs to your project. A software development company, on the other hand, has a team of professionals who can help solve the problem from various angles and perspectives.
6. More Than Just Growth
Application development is more than just writing code. Quality assurance specialists are also required to monitor project progress and ensure adequate project quality.
Aside from that, once your application is built, it will require ongoing support and maintenance based on the needs of the user. When you work with a software development company, you can reduce your stress and achieve more productive results.
7. Management of Agile Projects
For project development, most software development firms employ agile methodologies and a proper software development life cycle. This is important because it allows for changes to be made to the plan with speed and for the developers to adapt to new requirements.
Conclusion
The seven reasons listed above should be enough to convince you that outsourcing your software development to a reputable service provider like AlleoTech can benefit your project and lead to the success of your application. So, if you require professional and dependable software development services, you can turn to AlleoTech's expert team, which has created hundreds of profitable apps for our clients.
Contact us today!