We know a lot about technology and how to build it, run it, and take advantage of it. As a technology startup we mostly find ourselves being on the side of building and running it, rather than using it. But as any other company, we need to use a variety of business software to run our day-to-day operations. Today we wanted to take a look at some of the tools and services which make our lives easier.
Before we jump right in, let's clarify a few things to set the context. First, as we've already mentioned, we are a very young startup. Our needs are still rather basic, and we don't have decades of history to worry about when it comes to data and processes. Secondly, we are still very much in lean mode, trying to get as much done with as little spent. Third, again, as mentioned previously, we are technology company, so our choices are often heavily influenced by technical advantages like automation, integration, etc.
Now, without further ado, let's see what makes our work easier.
Google GSuite

Google GSuite is a collection of collaboration and communication tools from Google that cover a broad range of any business' needs. These include:
Gmail for email communications and contacts,
Google Calendar for managing meetings, calls, and tasks,
Google Drive for shared files,
Google Docs for collaboration on documents, spreadsheets, and presentations,
and a lot more.
When it comes to collaboration and communication tools, the two primary choices are Microsoft Office365 and Google GSuite. There are other alternatives, both cloud-based and self-hosted, but none of those provides such rich functionality, reliability, familiarity, and cost effectiveness. Google GSuite works better for us in terms of price, familiarity, and support for different devices and operating systems that our team is using. At roughly $5 per user per month, this is a great option for companies of all sizes.
Slack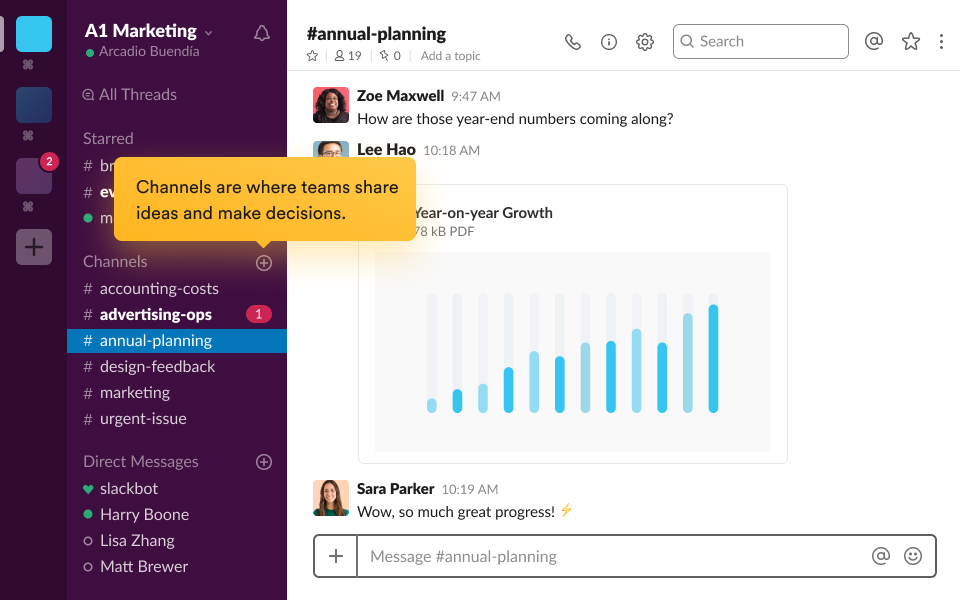 Slack is really the king of the instant messaging and collaboration. Although we do use email, most of our team communications happen in Slack channels. We also integrate a variety of other tools to both take actions from and receive notifications to our Slack workspace.
And the best part of it is that Slack is free. There are paid subscription options for advanced functionality like video calls and screen sharing, but that's not something that we need for now.
QuickBooks Online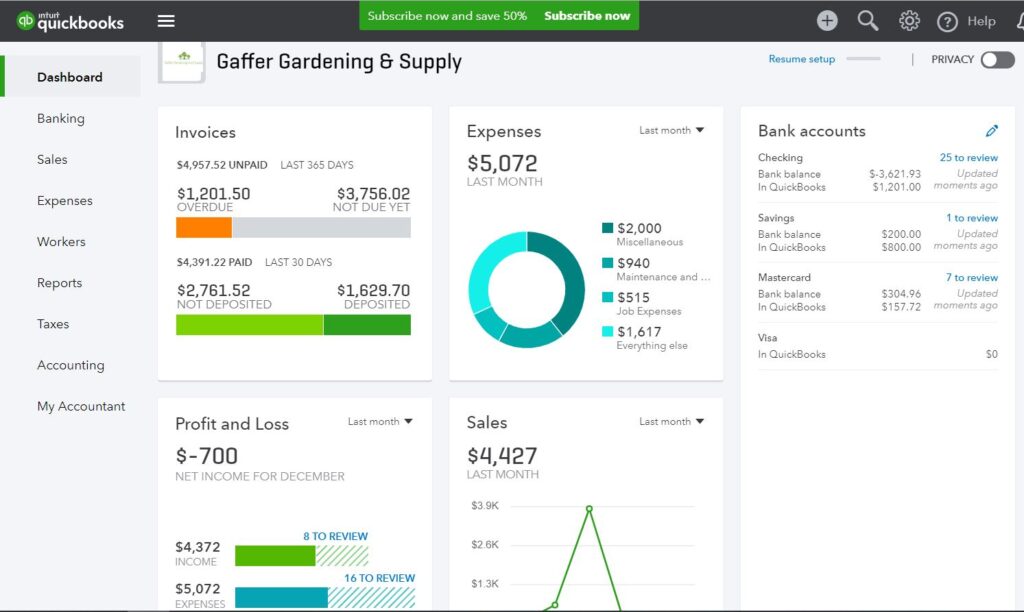 QuickBooks Online is a cloud-based accounting software. It probably won't cut it for large enterprises, but it's perfect for small and medium companies. A number of different subscription plans allows you to control both the features and costs.
There are many alternatives in this area of business software, so you can pick and choose what works better for you. Have a look at a couple of these reviews to find out more about other choices:
After we tried a few, we chose QuickBooks Online for its intuitive user interface, rich feature set, easy integrations, and price. If you are interested in this particular application, keep an eye on the constant stream of their special offers. We managed to catch a sweet discount for 6 month, dropping the price for the Essentials plan from $23/month to $6.9/month.
Revolut For Business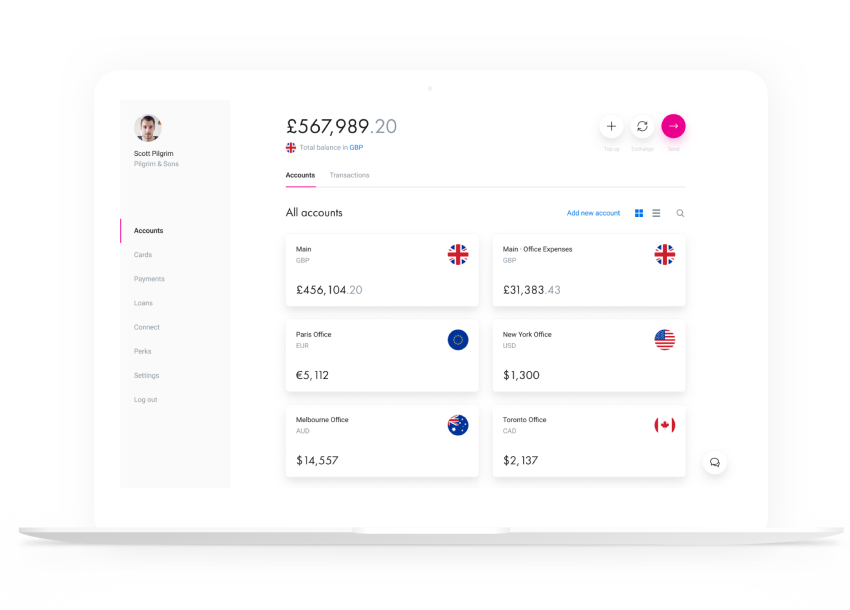 Revolut is a great solution for the banking needs of any business, and especially so of a young startup like ours. If you still haven't heard about it, read more about it here. Opening a bank account for a new company these days takes a very long time, requires a tonne of paperwork, and often even costs money. We've opened a Revolut business account for AlleoTech Ltd within a couple of hours. The process was very straigh-forward and everything was done online. And it didn't cost us a cent.
We are now able to send and receive bank transfers within both SWIFT and SEPA. We have corporate credit cards. We have full transparency and analytics of all our incoming and outgoing funds. And we have it integrated with our other tools.
Zoho CRM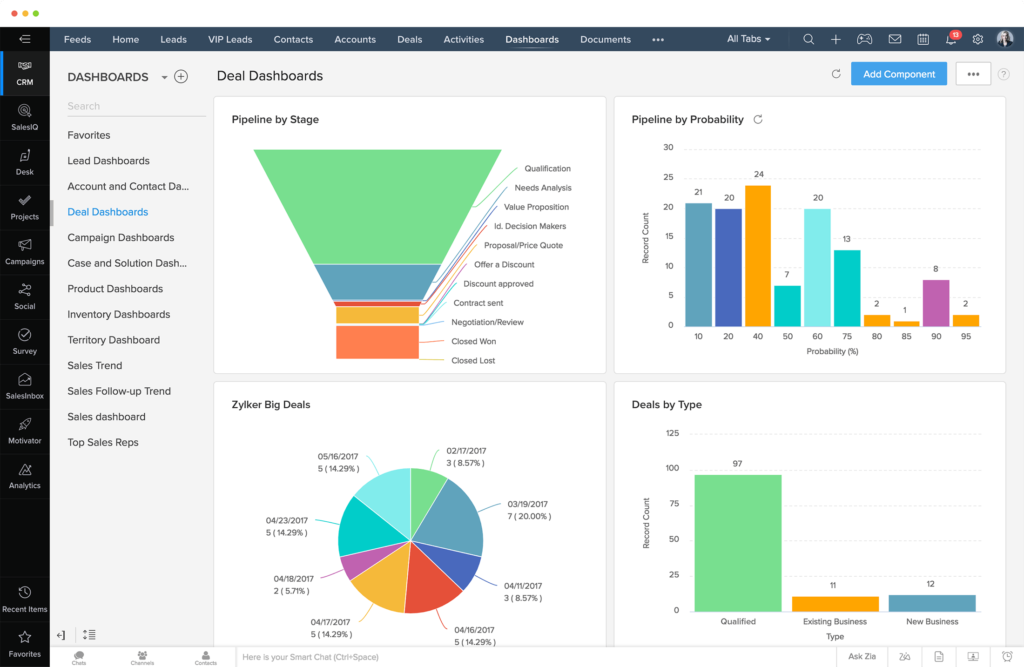 Zoho CRM is one of the many options available today when it comes to Customer Relationship Management (CRM) systems. Have a look at "Evaluating the top 8 CRMs that integrate with QuickBooks" for some details on alternatives. We've reviewed quite a few of these and decided on Zoho CRM for a variety of reasons:
Excellent user interface.
Great set of features, even with the most basic subscription plans.
Integrations with other tools, like QuickBooks Online.
Excellent mobile application.
Great reports.
Free plan for up to 3 users.
We have already pushed all our leads, contacts, accounts, opportunities, and activities into the Zoho CRM, and even just a few days after we are ripping the benefits. We now have a very clear picture of what we need to follow-up, what's happening next, and where are we making the most money, and when should we expect to close our current deals.
The great thing about Zoho CRM is that it comes with all sorts of things pre-configured and ready to use. We barely spent any time on adjusting the settings. And those that we did adjust were mostly regional things like currencies, date and time formats, etc.
Redmine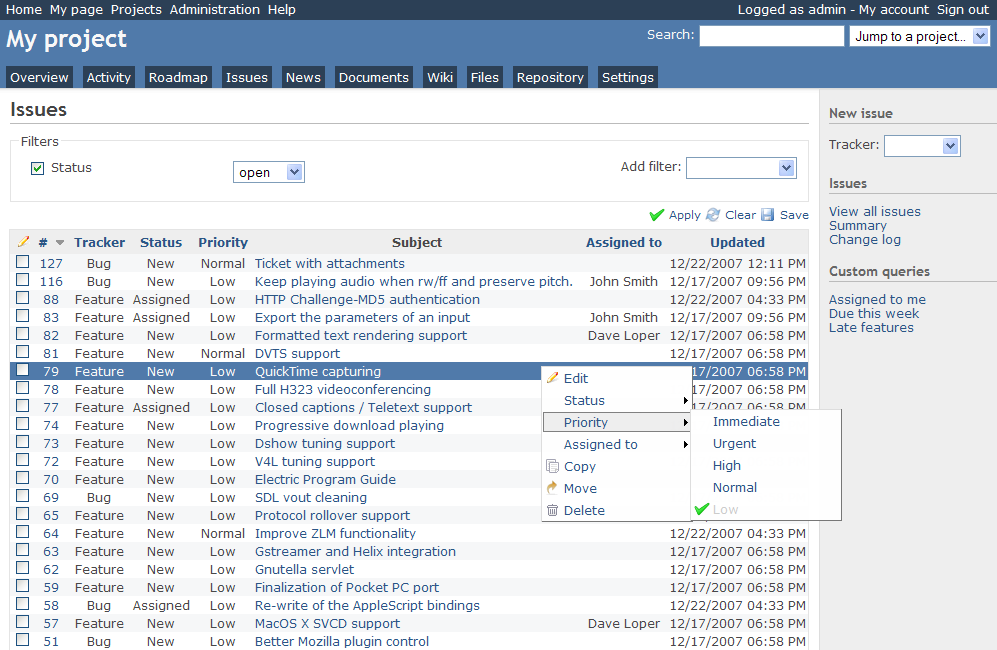 Redmine is a project management software that we know and love. Similar to CRMs, this space is crowded with choices. Have a look at "11 Best Project Management Apps for Business in 2019" just to get an idea.
We chose Redmine because all of our team is very familiar with it. We've all used and managed it in our previous jobs, and we know very well how to tweak and adjust it to do exactly what we need. Out of all the business software we use, Redmine is currently the only one that we have self-hosted.
And if you don't count the hosting costs and time we spent on setting it up, Redmine comes free to us. It is an Open Source application with great community and countless plugins, themes, tips, tricks, and tutorials.
All our clients and projects exist in Redmine, where we manage all tasks, requests, and other issues. It helps us know which items we should work on next, who is assigned what, and when should we expect certain things to be finished.
---
As our company grows and matures, we will need new and better tools. We'll share with you if and when we find better options to the above business software that we use. And, in turn, please let us know which tools you use and why. We are always on the lookout for the best.