July 17, 2019
We talk about blockchain with many of our potential clients and investors. And the same question keeps coming up: who are the top blockchain companies? The answer to this question can vary a lot. How do you define the top companies? Is it market share? Or team size? Or investor interest? Or potential? Or technology contribution? Are we talking globally? Or by country? Or, maybe, by industry?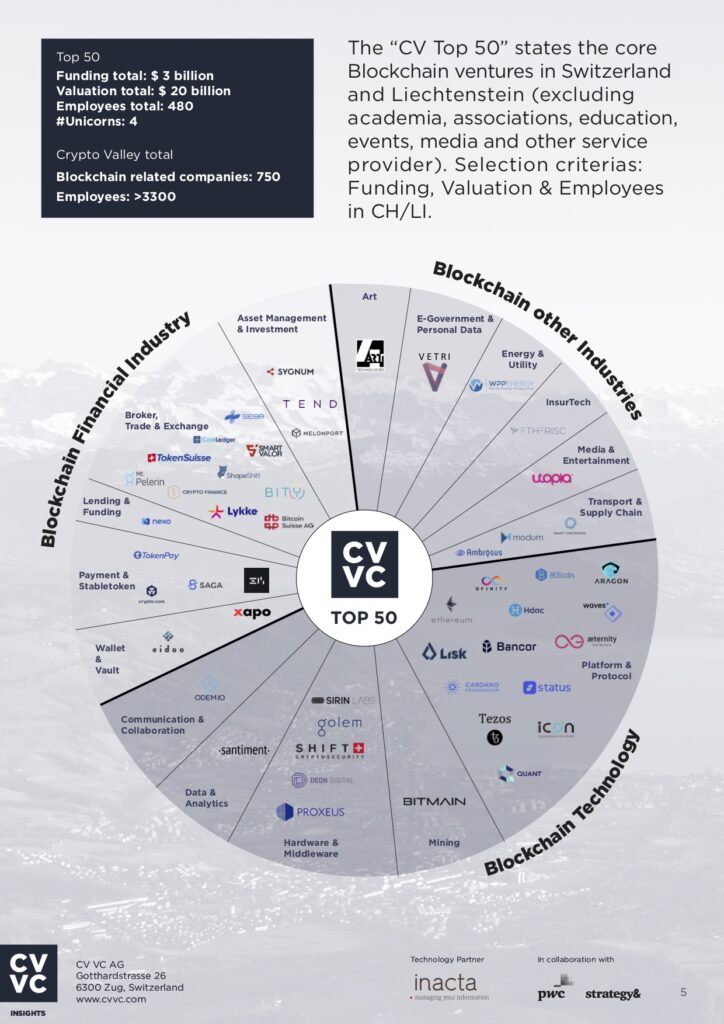 We decided to collect a few top blockchain companies lists in this blog post, so that we could use it as a reference when we answer the question.
50 largest public companies exploring blockchain
Forbes published
50 largest public companies exploring blockchain
last year. Not surprisingly, these are not blockchain-only companies. So for each of those the article provides a brief description of what they are doing with blockchain.
Industrial and Commercial Bank of China
China Construction Bank Corporation
JPMorgan Chase & Co.
Berkshire Hathaway Inc.
Agricultural Bank of China
Bank of America
Wells Fargo & Company
Apple Inc.
Bank of China Ltd.
Ping An Insurance Company
Royal Dutch Shell Plc.
Toyota Motor Corp.
Samsung Electronics Co.
BNP Paribas SA
Microsoft Corporation
Allianz SE
Alphabet Inc.
Walmart
Daimler AG
Banco Santander
AXA Group
Comcast Corporation
Mitsubishi UFJ Financial Group
Anheuser-Busch InBev
Royal Bank of Canada
Pfizer
Sberbank Russia
Nestle
Intel Corporation
Morgan Stanley
Siemens AG
Amazon.com Inc.
ING Group
Goldman Sachs Group Inc.
Intesa Sanpaolo S.p.A.
Prudential
Ford Motor Company
IBM
Walt Disney Company
Prudential Financial
Facebook, Inc.
MetLife, Inc.
Alibaba Group Holding Ltd.
AIA Group
Tencent Holdings Ltd
Oracle Corporation
BHP Billiton Limited
Mizuho Financial Group
Banco Bilbao Vizcaya Argentaria, S.A.
American Express Company
Top blockchain companies by investor interest
Investing News Network
picked the following companies as the top of the stock investor interest list.
Atlas Blockchain Group
BLOCKstrain Technology
Cobalt Blockchain
DMG Blockchain Solutions
DigitalX
Global Gaming Technologies
HIVE Blockchain
Interbit
Kontrol Energy
Marathon Patent Group
Northern Bitcoin
Overstock.com
RESAAS Services
Additionally, EU Startups lists the following
10 most promising blockchain startups in Europe
.
Bitcliq
Legal Nodes
Neufund
Authenteq
Lendonomy
Ambrosus
CargoX
Colendi
ODEM
Fieldcoin
Other resources
Here are a few other resources that provide lists, analytics and coverage of blockchain technology and companies.
Top blockchain startups by industry
Healthcare
Insurance
Real Estate
Supply Chain

BlockVerify
Omnichain
CircularTree

Internet of Things (IoT)
Logistics
Banking
Finance

Debitum Network
Omisego
TradeIX

FinTech

Rate3
CULedger
Equi Capital

Identity
Energy

LO3 Energy
Greeneum
ImpactPPA

Retail
Smart Contracts
Ethereum
Legal

Legaler
Openlaw.io
Integra Ledger

Music
Food

Ripe.io
FoodCoin
SynchroLife
Top blockchain companies by patents count
Bank of America
IBM
Mastercard
Fidelity
Coinbase
World Award Foundation
World Award Academy
AMobilePay Inc.
TD Bank
402 Technologies S.A.
Accenture
Dell
Top blockchain-related stocks
IBM
Alibaba Group
Fujitsu
Mastercard
ING Groep
Did we miss anything?
Do you know of any other lists or categorizations that we missed? Please do
let us know
and we'll update this collection.